Thai Dating Agency – Bangkok Matching proudly presents Luxury Matching Member – Thai Dating Male Business Owner of 16 November 2021 Looking for Love and  Serious Long Term Relationship.
"Meet the Right Person at the Right Time at Bangkok Matching"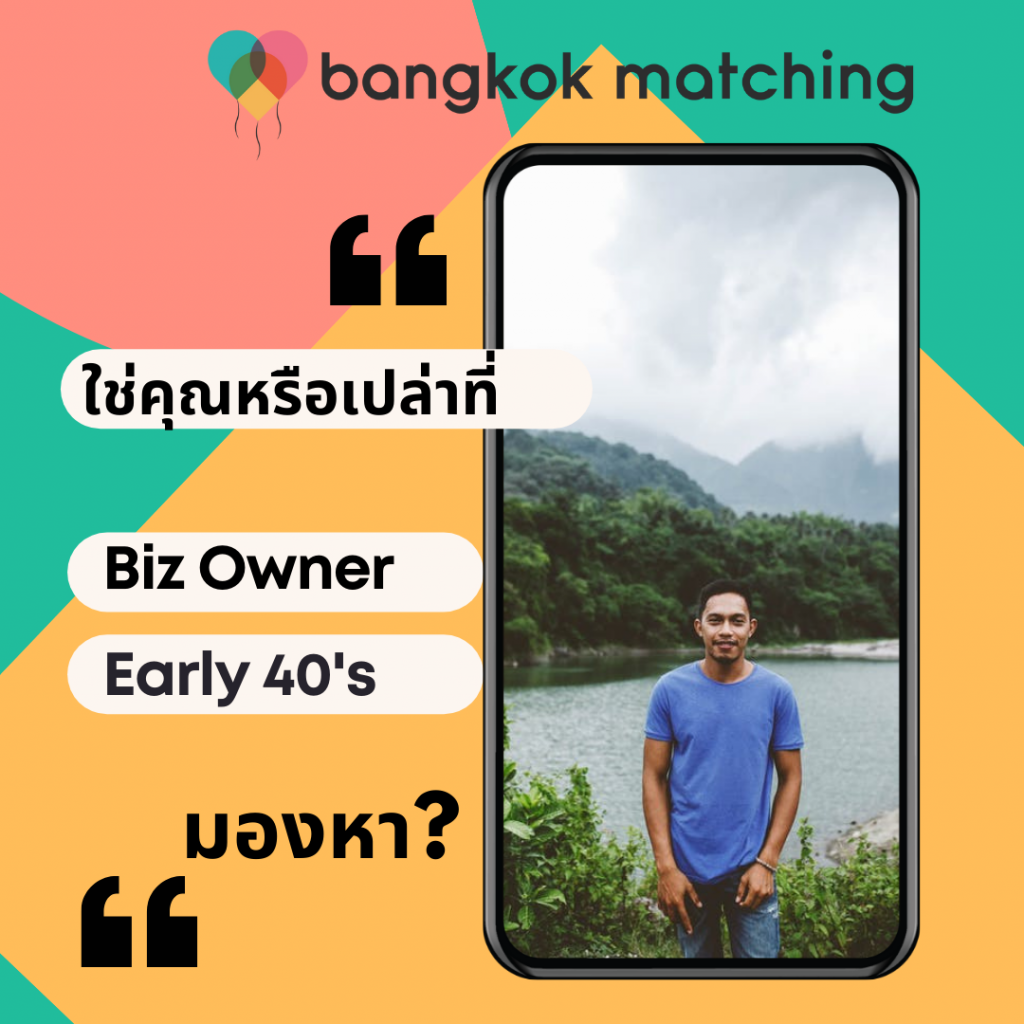 Dating Thai Male Business Owner in his early 40's is looking to be matched and date a nice lady aged between 28 – 33 for serious relationship.  
Group 4  Income 4,000,000 – 10,000,000  Baht/Month
Our Thai Dating Male Client would like to meet and date:
Single Thai Girls/Single Thai, Thai Chinese Lady aged 28-33
Average Looking+
Average – Fit – Average body shape
157 cms+ tall
Bachelor Degree+
No Smoke and drink only socially
Never been married
Bangkok Matching provides best professional matchmaking services for well-educated professional singles dating in Bangkok Thailand and in Asia by executive professional matchmakers.
PS.  The photo isn't our real client's photo.  Bangkok Matching's premium dating service is discreet and confidential, only "paying" dating members will see real photos of their match(es).
Would like to meet Well-Educated Successful Singles in Bangkok for Love?  Let's, Bangkok Matching, Thai Best Dating Service Agency assist you. 
Bangkok Matching does all background check.  Dating Service Package Fee Starts from 25,000 Baht
Meet Successful Thai Singles and Expat Singles in Bangkok Thailand like you within 7 days!
To Learn More About Bangkok Matching
Bangkok Matching's Dating Guidebook
https://www.bangkokmatching.com/en/dating-guidebook/
Our Success Stories
https://www.bangkokmatching.com/en/blog-success-stories/
📌  click โทรหา Bangkok Matching ได้ที่ link นี้เลยค่ะ หรือดูแผนที่ google map มาออฟฟิศ Bangkok Matching
https://goo.gl/maps/3ogBsbto3Mu
How to Approach a Thai Lady in a Group
Bangkok Matching's English Dating Tips PLAYLIST