Bangkok Matching's Thailand's Best Premium Matchmaking Service/Thai Dating Service Agency in Thailand Present Featured Premium Thai Dating Female Client of 7 December 2022 Looking for Love with Thai Singles, Foreigner and Expat Singles.
"
Meet the Right Person
at the Right Time
at Bangkok Matching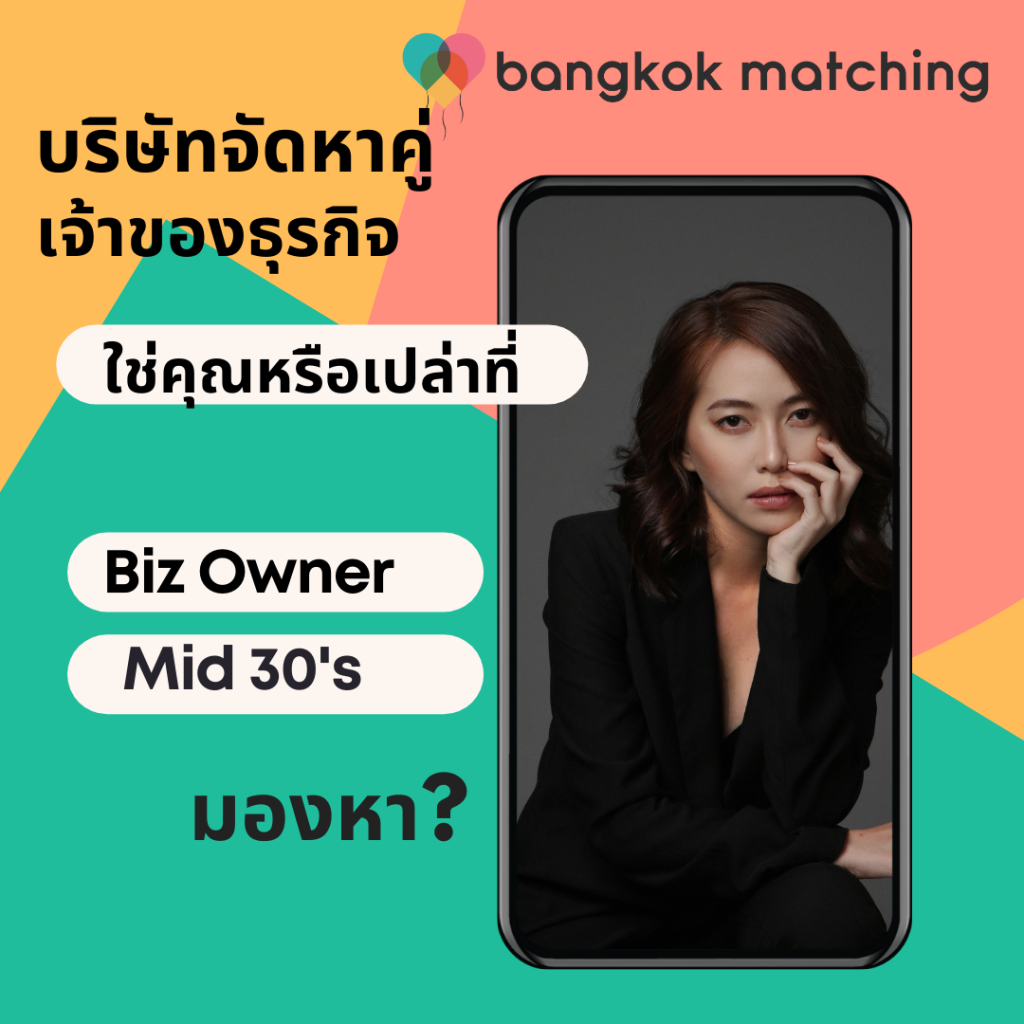 "
Date Real People
Start Real Relationship
At Bangkok Matching
Dating Thai Female Business Owner in her mid 30's is looking to be matched and date a nice gentleman aged between 30– 50 for serious relationship.  
Group 3  Income  700,000 – 4,000,000 Baht per Month
She decided to use BangkokMatching.com's thai dating, matchmaking service because Our client is looking for serious relationship leading to marriage.
Our Thai Dating Female Client would like to meet and date:
Single Thai Gentlemen and Expat European, German, Swedish, Westerner Single aged 30-50
Average look is ok.  
Average – Chubby body shape
170 cms+ tall
Bachelor Degree+
No Smoke and drink only socially
Never been married, no children
PS.  The photo isn't our real client's photo.  Bangkok Matching's dating service is discreet and confidential, only "paying" dating members will see real photos of their match (es). 
Bangkok Matching provides best professional matchmaking services for well-educated professional singles dating in Bangkok Thailand and in Asia by executive professional matchmakers.
Would like to meet Well-Educated Successful Singles in Bangkok for Love?  Let's, Bangkok Matching, Thai Best Dating Service Agency assist you. 
Bangkok Matching does all background check.  Dating Service Package Fee Starts from 25,000 Baht
Meet Successful Thai Singles and Expat Singles in Bangkok Thailand like you within 7 days!
What is it like to date Thai men in Thailand?
The Los Angles Tribune talked with Bangkok Matching, High-End Dating, and Matchmaking Service Agency in Thailand, to reveal sentiments and guidance on what is it like to date Thai men in Thailand?
https://thelosangelestribune.com/2022/12/31/what-is-it-like-to-date-thai-men-in-thailand/
Thai Dating Culture Tips Feed News
by Bangkok Matching, Thailand's Leading and Longest Running High End Dating and Matchmaking Service Agency
https://news.google.com/publications/CAAqBwgKMIiMwgswqqfZAw?r=11&oc=1&hl=en-US&gl=US&ceid=US:en
Thai Dating Agency – Bangkok Matching Tells What it is like for Foreigners to marry a Thai lady and live in Thailand
https://ritzherald.com/thai-dating-agency-bangkok-matching-tells-what-it-is-like-for-foreigners/
Follow Us:
📣 Facebook :  https://www.facebook.com/bangkokmatching.fanpage/
📣 Twitter:  https://twitter.com/BangkokMatching
📣 Instagram: https://www.instagram.com/bangkokmatching
📣 Bangkok Matching Youtube Channel: https://www.youtube.com/channel/UC5EbBMpGCiOwAZE4R7GLZ_Q
📣  Pinterest:  https://www.pinterest.com/bangkokmatching
📣 LinkedIn: https://www.linkedin.com/bangkokmatching
📣 TikTok: https://www.tiktok.com/@bangkokmatching
IS MEETING THAI WOMEN THROUGH THAI DATING AGENCY A GOOD IDEA?
https://ritzherald.com/is-meeting-thai-women-through-thai-dating-agency-a-good-idea/
THAILAND DATING CULTURE TIPS FROM BANGKOK MATCHING – HOW TO HAVE A SUCCESSFUL LONG-DISTANCE RELATIONSHIP WITH THAI LADIES
https://ritzherald.com/thailand-dating-culture-tips-from-bangkok-matching-how-to-have-a-successful-long-distance-relationship-with-thai-ladies/
Dating In Thailand: The Dos And Don'ts – Expat's Guide For Dating Thai Ladies
https://marketsherald.com/dating-in-thailand-the-dos-and-donts-expats-guide-for-dating-thai-ladies/
Modern Thai Dating and Thai Families – Having Kids or Not Having Kids Trend in Thailand
https://belmontstar.com/modern-thai-dating-and-thai-families-having-kids-or-not-having-kids-trend-in-thailand/