Bangkok Matching, the longest running high-end personalized dating and matchmaking company with heartquater in Bangkok, Thailand has been working with singles in Thailand and all over the globe, both men and women, for over 18 years so far.
We have listened to the numerous issues faced by singles when it comes to dating people they meet online and dating apps. In order to provide benefits to singles seeking a true relationship and lifetime partner, Bangkok Matching has written this article to serve as a useful resource for singles. We sincerely hope that It can be used to safely navigate the world of online dating and dating apps and help pure heart singles out there to successfully find a compatible partner as they wish.
7 important points to consider for safely dating strangers you meet online or through dating apps either in Thailand or anywhere in the world
Schedule daytime meetings in public places.
When meeting someone you've never met before, it is advisable to avoid scheduling meetings at night. If possible, try to arrange daytime meetings instead. If you plan to meet in the evening, it's best not to schedule it too late. The farther away from home you are, the higher the potential risks. Therefore, prioritize your safety by scheduling meetings during daylight hours and in public places. This way, you can avoid being alone with strangers late at night.
It is advisable not to consume alcoholic beverages.
Whether you are a single woman or a single man, when meeting strangers, not only for dating purposes, it is advisable not to drink alcohol to the point of getting drunk or losing good judgement. If you choose to drink, it's best to limit yourself to just one glass. This helps avoid potential dangers that may arise from excessive drinking. Additionally, it increases your personal safety, as being conscious allows you to make decisions and help yourself in case of emergencies.
To avoid it altogether, it's best to schedule initial dates that involve activities such as having a meal, having coffee, or enjoying desserts where there is no opportunity to consume alcohol. This way, especially in the early stages of dating, it is better to focus on non-alcoholic options.
We can tell you that Sober Dating is the big trend in 2023 which Bangkok Matching will write about it very soon.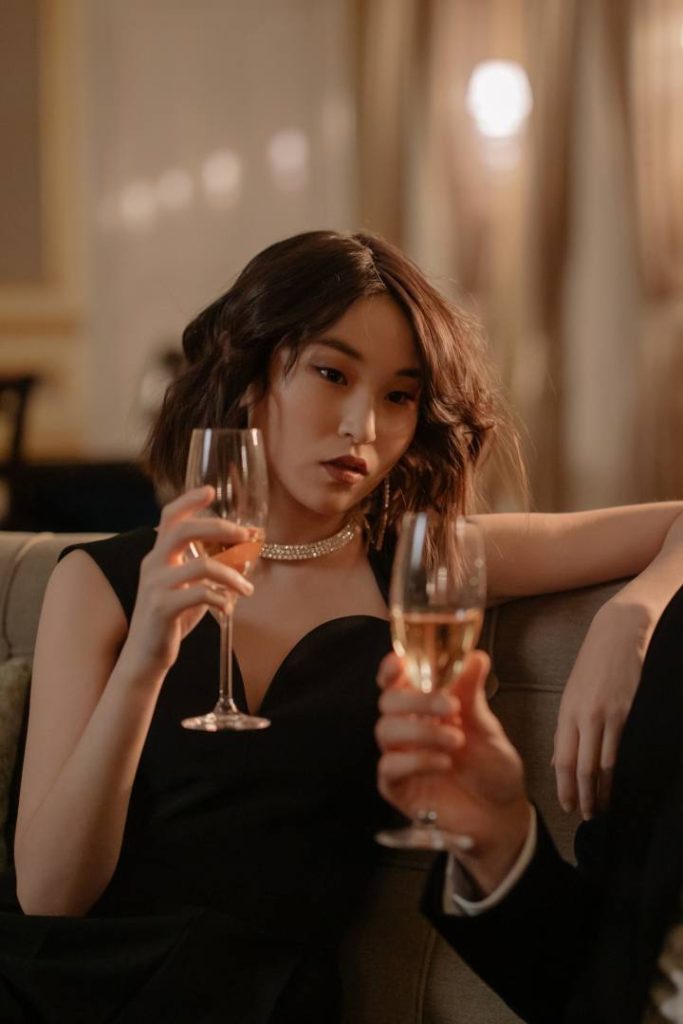 If there is a need to leave the table, it is advisable not to consume from the same glass of water or eat from the same plate of food upon returning.
This is not just something that happens in dramas or movies, but it has actually occurred in real life and has been reported in the news. Therefore, if the encounter involves drinking coffee and we have a reason to leave the table and temporarily abandon our glass of water, whether it's to use the restroom, make a phone call, or anything else, when we return to our seat, we should be cautious. It may be advisable to request a fresh glass of water or even order a new beverage altogether. This is because if someone were to tamper with the drink while we were away, even if we were escorted out of the establishment, it would go unnoticed by those around us since we entered the venue together and have been sitting at the same table throughout.
If it's about eating food, try not to leave the food and beverages unattended while going to the restroom. Instead, finish eating before excusing yourself to the restroom, and when you return to the table, avoid consuming anything that was left on the table.
It is advisable to schedule a meeting at a familiar venue.
If it is the first meeting, it is advisable to go to a restaurant that is familiar to you or recommend a place that you have been to before to the opposite party. This is especially important for women. If it is a restaurant near your home that you have been to before, it should be a public place that allows you to easily escape or seek help if you feel uncomfortable and suspect that the person you're meeting may not be someone you can trust to have a conversation with. This not only increases your safety but also provides a higher level of security.
Tell your family or friends about your meeting and whereabout
When meeting someone new, it is important to inform your family, friends, or someone you trust about your plans. Let them know where you are going, the specific location, and who you are meeting. If you need to get into a vehicle, take a picture of the car or its license plate to share it with someone you trust. It's always a good idea to take these precautions.
Bangkok Matching does not recommend getting into a vehicle with a stranger under any circumstances. It is important to get to know and trust the opposite party genuinely before agreeing to accompany them. Only then should you consider going together.
Do not disclose personal details such as your address and workplace too soon.
When meeting someone for the first time from the online world, it is advisable not to disclose details about your residential address and workplace. This is to prevent strangers from obtaining information that may not align with our expectations or make us feel unsafe during conversations. By refraining from sharing such information, we minimize the opportunity for the other party to stalk or monitor us in the future.
Don't give out your money in any shape or form
There are many scammers online who lure people into investment schemes and ask for money. Regardless of how high the promised returns may be, do not transfer any funds.
Bangkok Matching, as the longest running personalised dating and matchmaking company, has received numerous reports from both men and women about encountering individuals on Facebook, social media, or dating apps who invite them to invest with the promise of high returns. Do not fall for such claims and remain cautious.
Be aware of another group of individuals who claim to be in dire financial situations, seeking help or asking for loans, should not be taken lightly. Do not transfer funds unless you are prepared to accept that the money may not be repaid.
Conclusion
Single women and men who are looking for a true relationship and real genuine partner should be observant and cautious when meeting strangers. It is important to ensure that the person we meet is mentally stable, genuinely looking for a partner, and truly single. Take time to learn about the other person, be cautious, and take care of yourself during every encounter with a stranger. Even if you think you already know them and have been talking for a while, it is still important to remain cautious and vigilant when meeting them.
Bangkok Matching believes in and desires to help every single person find a good and compatible love safely. Single individuals exist everywhere, whether in the online world, on the internet, dating apps, social media, workplaces, gyms, bookstores, or shopping malls.  We wish for everyone to encounter true love through any means possible.
Do remember Love is really all around.  It's just "When".
Is meeting Thai women through Thai dating agency a good idea?
https://ritzherald.com/is-meeting-thai-women-through-thai-dating-agency-a-good-idea/
Thailand dating culture tips from Bangkok Matching
How to have a successful long-distance relationship with Thai ladies.
https://ritzherald.com/thailand-dating-culture-tips-from-bangkok-matching-how-to-have-a-successful-long-distance-relationship-with-thai-ladies/
Dating In Thailand: The Dos and Don'ts – Expat's Guide For Dating Thai Ladies
https://marketsherald.com/dating-in-thailand-the-dos-and-donts-expats-guide-for-dating-thai-ladies/
Modern Thai Dating and Thai Families – Having Kids or Not Having Kids Trend in Thailand
https://belmontstar.com/modern-thai-dating-and-thai-families-having-kids-or-not-having-kids-trend-in-thailand/
Thai Dating Agency – Bangkok Matching Tells What it is like for Foreigners to marry a Thai lady and live in Thailand
https://ritzherald.com/thai-dating-agency-bangkok-matching-tells-what-it-is-like-for-foreigners/
📣 Bangkok Matching Youtube Channel:
https://www.youtube.com/channel/UC5EbBMpGCiOwAZE4R7GLZ_Q
📣 PlayList English Dating Tips